Chennai-Rameswaram-Masinagudi
Total Kms: ~1500Kms
Year: 2012
Total Days: 3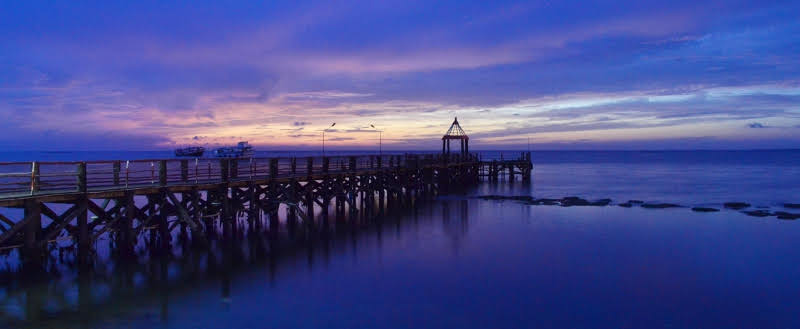 Rameswaram pier
As with most of our trips, we started at night. I think it was close to 8 PM when we started. It must have been a weekday, that was usually the way. It was way to make full use of every minute of the vacation. We would drive the whole night and reach the destination the next day. I was the designated night driver of the group. I preffered driving at night as the traffic was less and mainly the pedestrian and pesky two wheeler traffic was almost zero. I loved sharing the highway wit truck drivers. They respect the one main rule of highway driving, they would never change a lane without signaling and they would do the lane change slowly and cautiously.

I caught the travel bug (especially road trips) in 2007, when 4+1 (+1 story later) of us did a trip to Dubare, Karnataka. I absolutely enjoyed the time together with friends. Have done a few dozens till now after that. Of course the travel has become less frequent due to all of us being busy with other responsibilities. Most of my road trips has been with Andy. But when Deepak is in town, he is part of the team. This time Deepak's brother also joined us.

This trip, all four of us could drive, so there was no problem when it came to taking over driving when the other was tired. The original plan was to go to the southern most tip of India, that is Kanyakumari via Rameshwaram and then head back to Chennai. But that wasn't meant to be. One of the good thing about road trips is that we don't need a plan when we start out. :) We loaded up on snacks and started our drive. We stopped soon for dinner at a highway restaurant. Then went on our long drive. I think Deepak took over the wheel at 1 AM. And we were close to Rameshwaram at 4 AM.


Highlight:
I was looking at google maps to see where we were and there was this part of the highway 86 that goes over the sea, just before entering Rameshwaram. It's a small stretch (~1.5Km) running parallel to Pamban railway Bridge. I was looking at the map and I could see that we were on top of the ocean and I could smell the ocean air but could not see anything, it was pitch dark. When all my senses are not in sync is when it gives me the chills - I could hear the gentle sway of the ocean, I could smell the salty sea air but I could not see it. It was one of the exciting moments of the trip for me.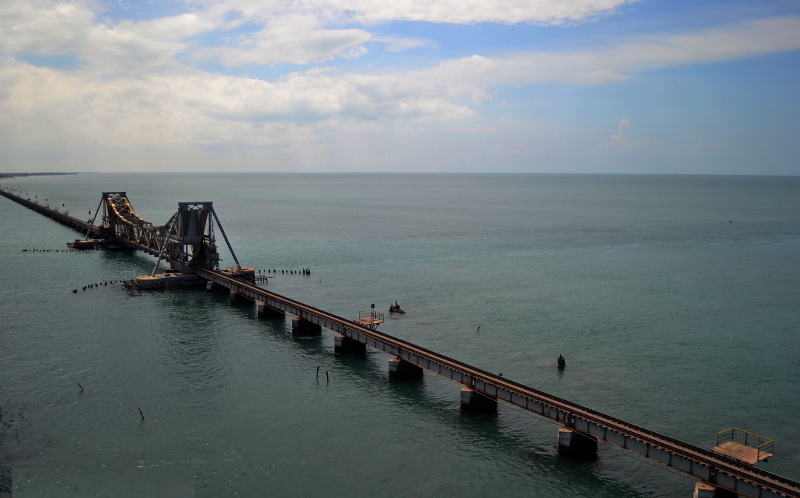 Pamban Railway Bridge, Rameshwaram
We reached Rameshwaram at around 5 AM and drove straight to the beach area next to the temple. The dawn was just breaking and the Sun wasn't visible yet. I set my Nikon to get long exposure shot. This was one of the outcomes of that. Of course this was after some 50 shots.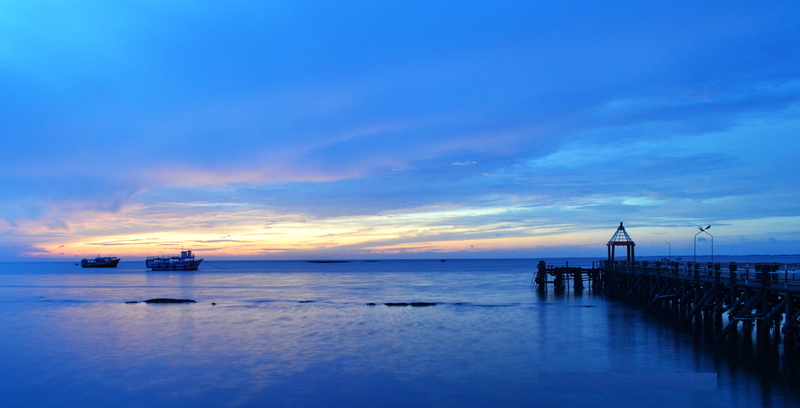 Rameswaram pier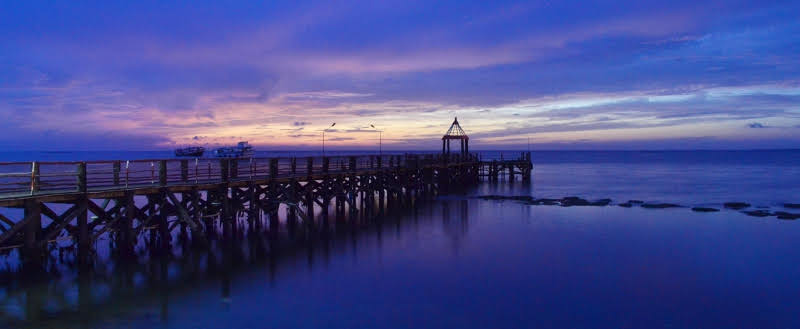 Rameswaram pier
Once I was happy with the outcome of the photos, we spotted a TTDC place to stay. We went to the reception and checked in for some rest. We might have slept for 4 hours and then we were back in the car wanting to see the famous white-sand beach. We went to the white-sand beach and it was lovely, the sea was clean with gradients of blue.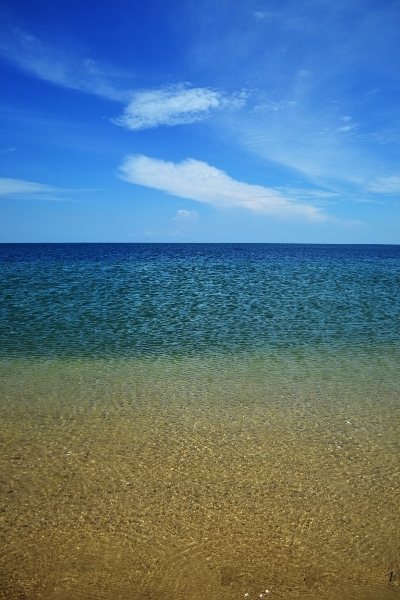 Rameshwaram Sea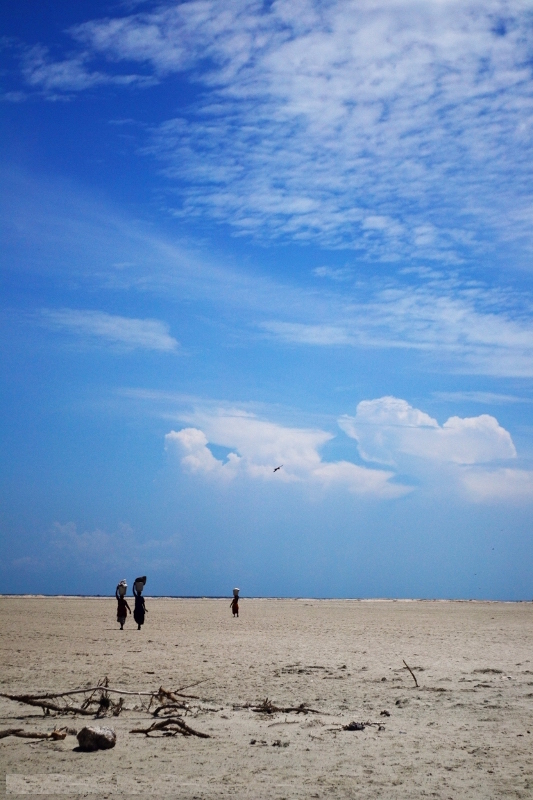 White-sand beach
Here's a video I shot with my Nokia(I think):
We were there at the beach for 30 minutes at noon time and we had enough of the Sun. As you can imagine, we just wanted to get back to the shade in the car. And that is exactly what we did, we went back to the hot interiors of the car and couldn't wait for the AC to cool the car down.
Highlight: And that is when we decided we don't want to go to another hot place (kanyakumari) but let's head to some hill station. Some one suggested 'How about Masinagudi'. Some one else said 'Ya, why not?!' and in 30 minutes we had checked out of TTDC and headed to Masinagudi.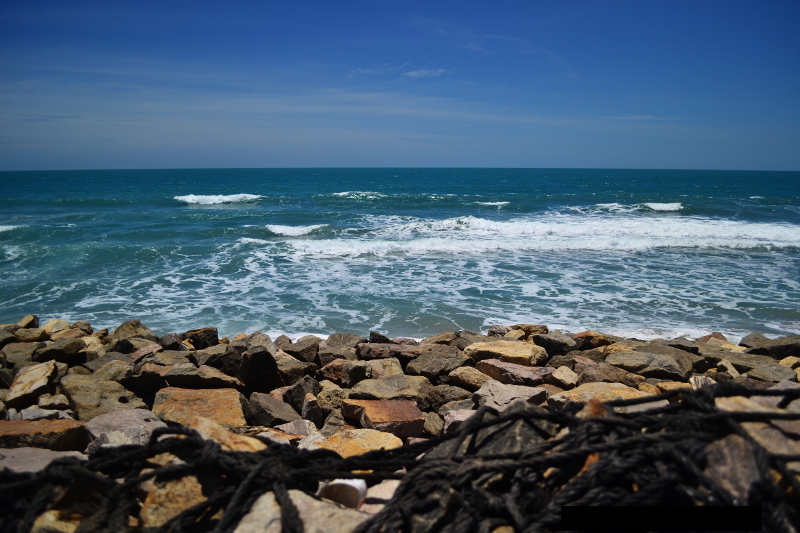 Rameshwaram Sea
A photo on the way out of town: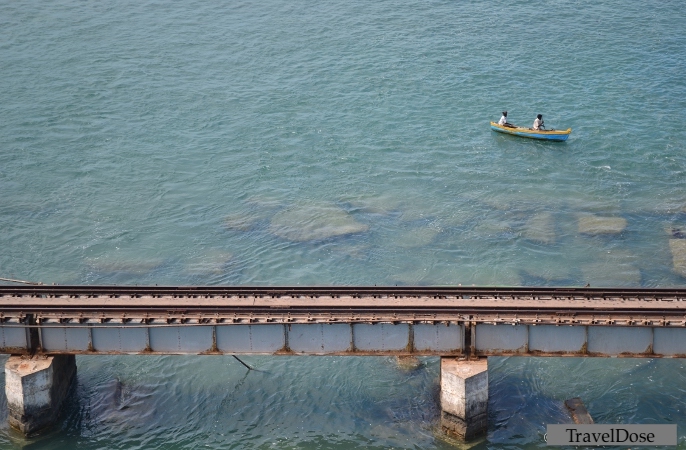 View from the bridge. Boatmen, Rameshwaram
The part 2 of this story is based in Masinagudi. One of my top highlights of all my stories is part of this story. I call it the 'Longest 9 Kms'.